White Gull Inn Blog
All in the Family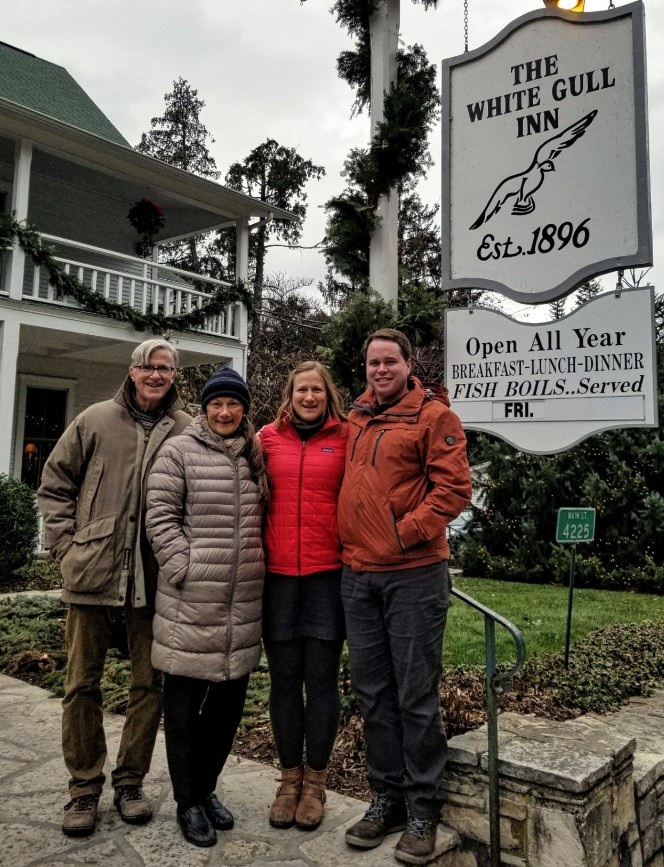 May 17, 2018 - The major White Gull news of 2018 is that after 46 years, Andy and Jan Coulson officially passed the baton of ownership to daughter and son-in-law Meredith and Chris Coulson-Kanter. Andy bought the business in 1972 with four friends, hiring Jan the very first year, and the two have been the innkeepers ever since, stopping along the way to get married in 1975, and buy out the other partners in 1981. Meredith joined her parents in management in 2014, and Chris, also a manager, joined the staff a year later. Meredith and Chris met in Madison, where Meredith worked as an ER veterinarian and Chris was pursuing a graduate degree at the UW. Meredith and Chris are enjoying the challenge of innkeeping, and look forward to meeting those of you they haven't already met these last four years. Jan and Andy, who remain on the staff part time to assist in any way they can, look forward to more free time while staying connected to the inn and people who been the cornerstone of their lives. More on the Coulson family's four plus decades at the helm of the White Gull can be found in recent articles in Door County Living and Door County Magazine.
Sometimes, the best things in life are free...
Monday, June 13, 2016 - When we first came to the White Gull, we didn't have trash pickup. Like most of our neighboring businesses, we threw our garbage and trash in the back of a pickup and hauled it to the Fish Creek dump. On one of my daily trips in 1972, I came across a pile of old roots. "What are these?" I asked Coonie Fish, the custodial resident of the dump. "Peonies, help yourself," he replied. I brought them home, Jan and I planted them and for 45 years during this week in June, we have enjoyed the biggest, most beautiful blossoms. I get asked every year what variety they are and where I got them. "I don't know," I have to say. "I got them at the dump."
A Birdseye View of the Big White Bird
October 17, 2015 - Ever wonder what the White Gull looks like from 1000 feet up? I did, until yesterday, thanks to our former partner (1972-1981) Michael Jenkins, who flew up from Texas to take me up in his Cessna 182-T for a view of the Door County fall colors.
From the White Gull to the Grammys
Thursday, February 7, 2013 - One of our favorite bands the Special Consensus will not be in Fish Creek or anywhere close on Sunday night. They will be at the Staples Center in LA at the Grammys! The bluegrass group founded by our good friend Greg Cahill (far right) in 1975 has been nominated for best bluegrass album of the year.
"There's a line in the title track of the latest Special Consensus album, Scratch Gravel Road, posts Robert Kimmel in CMT's The Edge, "where the singer describes coming from a place where a 'man can live his life away and never see the sun.' No doubt a familiar spot for most who dedicate their lives to making music, toiling away in obscurity and going unheard.
"The lyric is perhaps just as befitting of the Special Consensus story. Founded in Chicago 37 years ago and touring almost as long, they've delivered 16 albums with 41 different members yet remained largely unknown outside the bluegrass world. Finally, this year they received their first Grammy nomination in the category of best bluegrass album."
Largely unknown outside of the bluegrass world perhaps, but not in Door County, where the Special Consensus has performed twice to appreciative audiences in the White Gull's winter concert series and several times in the Fish Creek summer Concerts in the Parks. Those of us lucky enough to be at last April's concert at the inn were treated to live renditions of the songs from Scratch Gravel Road shortly after the album was released. Best of luck to Greg, Rick Faris, David Thomas and Dustin Benson.
2018 Update: The Special Consensus, consisting of current members (from right) Greg Cahill, Rick Faris, Dan Eubanks and Nick Dumas, continues to reap awards and recognition. In addition to being nominated for another Grammy - this time for Best Bluegrass Album (2018's River and Roads), the band received the International Bluegrass Music Association's (IBMA) award for Best Recorded Performance (Squirrel Hunters) and Album of the Year (River and Roads).
Victory Farm and the White Gull - Making the Connection
June 12, 2012 - (posted by Emilie Coulson)
I was twelve years old in 1996 when actors and musicians from American Folklore Theatre sang at the White Gull Inn's 100th birthday party. I'll never forget standing behind the ice cream sundae bar, listening to the songs and stories they shared. A stream of AFT company members, volunteers, and fans have always come through my family's restaurant, in part because of the White Gull's close proximity to this theater under the stars in Peninsula State Park. And when my parents could find a free summer night, they made sure to take us kids to see the new original show AFT produced each year. But that party was one of the first times the magic of AFT came off the stage and right into my life, and it was the beginning of a great connection and a long friendship.
The following summer, AFT cast my younger sister Hannah, then eight, for the role of Sarah in their production Northern Lights. My older sister Meredith starting working in the box office, and I tagged along to volunteer. As we went through school, we girls spent summers at the White Gull during the day and AFT at night, working in various roles. We also met another young AFT fan, Katie Dahl (whom you may recognize as the singer-songwriter playing live music every Tuesday night in the White Gull dining room). Katie, like my sisters and me, felt as at home at the theater in the middle of the woods as anywhere else, and we became great friends.
Pictured from left to right: Allie Babich, Emilie Coulson, Katie Dahl
Skip ahead fifteen years to this week, when Victory Farm, a new show that Katie Dahl and I wrote with James Valcq, is opening for AFT's summer season. Yes, Victory Farm is about a mother and daughter running a cherry orchard in Ellison Bay, but in it you'll find no mention of cherry-stuffed French toast. Instead, the connection between the White Gull Inn and Victory Farm runs deeper. It's a story about feeling pride in your work and the place you are from, two things that were easy for me to learn growing up at the White Gull and in Door County, and that were important pieces of what Katie and I saw in so many AFT shows we loved. Two of these shows, The Passage, which was the first show Katie or I had ever seen at AFT, and The Spitfire Grill, which returned in AFT's fall season last year, James Valcq wrote with Fred Alley. To have James compose the music for Victory Farm made the process of writing a piece for the theater we cared so much about even more special.
The White Gull Inn has sponsored an AFT show each season, and it only makes sense that this summer, they are one of the sponsors of Victory Farm. If you stop by the White Gull in the next couple months, you may see me working alongside my parents, and if you eat at the candlelight dinners on Tuesday nights, you'll probably hear Katie Dahl singing a song from the show in the dining room. And in one more tie between the show and the inn, Allie Babich, who plays Dottie, the daughter of the orchard owner in Victory Farm, is also working at the front desk this summer. She may help you make a fish boil reservation in the morning and sing to you the same evening. However you make the connection, I hope you attend a show at AFT and catch some of the same magic that caught my family and me. To learn more about Victory Farm and to purchase tickets, visit American Folklore Theatre.
(Emilie, daughter of White Gull Inn innkeepers Andy and Jan Coulson, is in Door County for the June 14 opening of Victory Farm. She is on a brief leave from her job as Director of Education at 826 Valencia, a nonprofit writing, tutoring, and publishing center that serves public school teachers and students in San Francisco.)
The White Gull Staff - Hundreds of Years of Experience
If you read the previous blog, you know the story of Jan and my 40 years of innkeeping at the White Gull. There are a million little details to keep track of in the inn business, and our staff, which fluctuates between 40 and 70 full and part time over the year, is charged with being on top of those details. If it weren't for them, Jan and I have said many times, we would not have lasted this long, nor would the White Gull have become what it is. They are friendly, efficient, professional and a lot of fun to work with. What is truly amazing is the number of years so many of them have been with us. Which is why, if you are a regular or returning guest, when you walk in the inn's front door, you'll usually recognize the first face you see.
We're proud of all of our staff and would love to showcase them all to you here, but getting a staff of 70 for a business that is open 24/7 together for a photo is nearly impossible. Last week we were able to corral seven staff members who have all been at the White Gull since the 1980's for a photo. Pictured (left to right) with their start date and title, are: First row: Gregg Steffen, 1982, Line Cook and Assistant Pastry Chef; Scott Kositzke, 1989, General Manager; Dean Pahl, 1989, Evening Chef; Second row: Julie Zak, 1984, Day Chef; Steve Glabe, 1982, Pastry Chef; Connie Pahl, 1985, Scheduling Manager and Wait Staff; Third row, Jan and Andy Coulson, 1972; and Patrice Champeau, 1989, Manager. Not pictured are three of our wait staff who have been with us since the eighties: Linda Silvasi-Kelly, 1984; Judith Kalb, 1981; Susan Vanderkinter, 1987.
And that's just the beginning. Staff who have worked at the inn for 5 or more years are: Kathy Buelow, Head Housekeeper; Christine Roberts, Front Desk; Gabriela Torres, Line and Prep Cook; Carmen Cedillo, Line Cook; and Sandy Hand, Office Manager.
Staff who have worked at the inn for 10 or more years are: Terry Cummings; Wait Staff; Annie Almstadt, Wait Staff; Wiwik Berns, Wait Staff; Becky Funk, Wait Staff, Sandra Garcia, Line Cook; Tammy Krause, Wait Staff; Carla Marr, Wait Staff; Jennifer Olson, Wait Staff; Dave Perkins, Manager; Joanne Surfus, Wait Staff; Joan Unger, Hostess; Dolores Vera, Wait Staff; and Angie Warwick, Wait Staff.
Staff who have worked at the Gull for 15 or more years are: Sandra McMullen, Wait Staff; Tom Christianson, Master Boiler and Prep Cook.
People tell us that the White Gull Inn is warm, friendly and hospitable – that it represents the best of what Door County has been and what they hope it continues to be. We, our loyal staff listed above, and those who have joined us in the last few years are proud to be a part of this tradition. We hope to greet you among the new and returning guests this year, whether it is for a meal, a night or a week.
"Choose your first job out of school carefully," laughs Jan, my co-owner-innkeeper of the White Gull Inn. "It could be your last."
In May of 1972, Jan Lindsley graduated from high school in Green Bay and headed for Door County to find summer employment. She remembers peering in the windows of the then closed White Gull and thinking, "I'd love to work here." Unbeknownst to her, the historic inn had just been purchased by five young Milwaukee area men and was about to reopen for business. Weeks later I, as managing partner, hired Jan, starting a 40 year career for both of us at the White Gull.
I believe timing is everything. At the same time Jan was looking through the White Gull windows, I walked into a tiny post office in the Australian Snowy Mountains to receive a telegram that changed my life. "White Gull Inn for sale. Need partner with $3,000. Please advise," read the wire from my college roommate, Dan Noonan. Noonan, now a Milwaukee Circuit Judge, and three friends (including Peter Boice of Ellison Bay) were looking for a fifth partner and someone to manage the 76 year old inn.
Shortly after graduating from the UW, I had immigrated to Australia in 1970 and was working in the village of Thredbo in New South Wales, employed by day as a surveyor's assistant, playing my guitar in a restaurant at night. I liked Australia, and might still be there today had it not been for that telegram. Within days, I was on a plane back to Wisconsin, where I stopped in my home town of Slinger just long enough to borrow $3,000 from my parents. Then I headed for Door County in time to open up the inn for Memorial Day weekend. It definitely started as a lark. We didn't really know what we were doing. Our primary experience was my tending bar one summer at Founder's Square and at a few pubs in Australia. But the White Gull was a pretty small business then, mainly concentrating on its popular fish boils. Fortunately, it came with Master Boiler Russ Ostrand, who not only cooked the fish, but entertained the guests on his accordion in between. He was not only the star of the show, but a wonderful mentor to me, Jan and all our staff.
We were lucky to be as young and as inexperienced as we were, or we might not have had the courage to proceed. In 1972, Americans outside of New England had never heard of country inns, and bed and breakfast was a concept most people identified with Europe. The White Gull was a relic of a bygone era at a time when new motels and condominiums were the norm.
I've made a lot of decisions in 40 years, but the most important one I made my first year – hiring Jan. An innkeeper must be able to wear many hats, and in the early years Jan worked in nearly every position at the inn, including housekeeping, waitressing, hosting, cooking and baking. As manager, I was usually at the front desk, but when the opportunity arose, I would help Ostrand at the fish boil and sometimes accompany the accordion playing cook with my 5-string banjo. In 1972, the fish boil was the only meal still served at the inn, but within a few years, after extensive kitchen remodeling, we were able to reinstate breakfasts, lunches and evening meals.
Jan and I were married in 1975, and became the sole owners of the inn in 1981. The main building and cottages have all been renovated, remodeled and redecorated several times since 1972. Slowly, the inn's three month season gradually grew to six months and then to year round. In 1978, the White Gull was included in author Norman Simpson's guide Country Inns and Back Roads. Within a few years the inn was featured in dozens of country inn and bed and breakfast guides, travel books, newspapers, and magazines, including the New York Times, Chicago Tribune, Better Homes and Gardens and Midwest Living.
During the 1980's we acquired more Fish Creek property, including two staff houses and two more rental properties. One of them was the historic Lundberg House, built in 1895 by the first grocer of Fish Creek. (Lundberg's store later became Alwes Grocery Store and today houses the clothing store On Deck.) In 1985, our interest in historic Fish Creek led us to purchase the neighboring Proud Mary Hotel. The Proud Mary, originally known as Welcker's Casino, had been moved to Fish Creek in the winter of 1907 from Marinette over the ice of Green Bay by Dr. Herman Welcker, founder of the White Gull Inn. The hotel had undergone a succession of names and owners after Welcker's death. Reunited with its sister inn under one ownership, the Proud Mary underwent six months of extensive renovation. Jan then reopened it as the Whistling Swan Inn, a seven-room bed and breakfast with a women's dress shop located in what once had been the inn's music room. Within a few years both inns were listed on the National Register of Historic Places.
For ten years, Jan managed the Whistling Swan while I continued to operate the White Gull. In 1996, trying to balance our work lives with raising young children, we sold the Whistling Swan, and Jan rejoined me at the White Gull. Our daughters Meredith, Emilie and Hannah are grown now, but all three worked at the inns during school breaks.
In 2000, we began our largest project yet, replacing the Beachcomber, a small saltbox cottage next to the main inn, with the Welcker House, designed and constructed to match the existing historic buildings. The Welcker House features four luxury rooms, all with fireplaces and whirlpool baths.
In 2010, the White Gull received national publicity from an unexpected source. I was bussing tables in the White Gull dining room one morning when I was called to the front desk to take a call from from ABC's Good Morning America. GMA had selected the White Gull as one of four finalists in its Best Breakfast Challenge. A few days later, an ABC crew arrived in Fish Creek to tape White Gull Day Chef Julie Zak making Cherry Stuffed French Toast. After the segment aired, viewers were encouraged to vote for their favorite on line. Although the other three contestants were from large cities with huge television audiences, the White Gull received tremendous support from Door County, all of Wisconsin and around the world, receiving votes from as far away as New Zealand. The White Gull was declared the winner of the Challenge, and we and our staff appeared on Good Morning America via Skype. Nothing could have prepared us for the hoopla that followed. The experience was thrilling for us and our staff. To this day, we are grateful to everyone in Door County and across the country for their support and votes. It was heartwarming to see the excitement the Challenge generated and how it brought so many together to work to put Door County in the national spotlight.
Forty years as innkeepers is longer than the original owners, and longer than most people spend in one job. We continue to be in awe of a lifestyle that is anything but boring. Our days take us from one century to another, from winding the 216-year-old grandfather clock in the lobby to updating the White Gull Facebook page. Where else, we ask ourselves, would we get to wear the hats of cook, hotelier, decorator, landscaper, fish boiler - the list never ends. We are lucky to have a wonderfully loyal and dedicated staff, many of whom have been with us for 25-30 years.
As Jan says, the greatest reward of running the White Gull has been the opportunity to meet so many wonderful people. A building is just stone, mortar, wood and plaster, but it's the people - those who stay in it and those who care for it - that make it come alive and provide its history. We are lucky indeed to have made so many friends during the last 40 years, and we have enough memories to last a lifetime.
Forty years is hard to squeeze into one blog entry. We'll add more stories and photos from our first four decades throughout the year. In the meantime, you can watch the Door County Today video of our first 40 years.
Master Boiler Tom "Captured" by Watercolorist
August,2011 - White Gull Master Boiler Tom Christianson has had thousands of photos taken of him over the years as he prepares whitefish dinners on our patio. But paintings, well, not so many. Missouri artist Kathy Nausley is a friend of Jim and Judy Kottmeier, who have a Fish Creek home and are regulars at the White Gull fish boils. They brought Kathy with them a while back, and she produced this beautiful watercolor of Tom, which now graces the Kottmeier's home.
Good Morning America (The Rest of the Story)
May 16, 2010 - (To be read after the previous post) On Saturday, May 15, I was up at 5 AM, setting up televisions in the White Gull dining room, lobby and on the patio at the coffee bar. It was the day we and three other finalists would be featured on Good Morning America Weekend prior to nationwide online voting by GMA viewers. We thought we'd have a big crowd and wanted them to be able to see the coverage while enjoying breakfast. At 6:45 AM, there was already a crowd gathering in the lobby, and a cameraman from ABC affiliate WBAY-TV was shooting footage along with Steve Kastner of Fish Creek, who was filming the event for a documentary he would later post on his blog and Door County Style on line magazine.
(Pictured: the winning entry and star of the show - White Gull Inn Door County Cherry Stuffed French Toast!)
At about 7:45, with the dining room full, Good Morning America's Marysol Castro introduced the four finalists. Our competition was stiff: Houston's Breakfast Klub was featuring Wings and Waffles; the Sunny Point Cafe in East Ashville, North Carolina, was featuring Huevos Rancheros; and from New Hampshire's Friendly Toast came the King's Pancakes. A cheer arose in the White Gull dining room when GMA weekend anchor and Wisconsin native Bill Weir referred to Door County as the "Riviera of the Midwest!"
Immediately after the show finished at 8 AM, online voting commenced. We soon became aware that the results were being posted on Good Morning America's weebsite as the day proceeded. The White Gull jumped off to a strong early lead. We were struck with how much support we were receiving from Door County, the rest of Wisconsin and from all across the country. Phone calls and emails poured in through the day from as far away as New Zealand and Australia. They had similar messages: We voted for you, White Gull Inn. Go Door County!
By mid afternoon, the White Gull was still leading, but Houston was coming on strong. We watched the results anxiously until 6 PM when the voting ended. A few mintues later, my cell phone rang and it was Ameya Pendse calling. The White Gull had won by several hundred votes! That night would be a long one, because Ameya asked us not to let anyone know until it was announced on the air Sunday morning.
I was back at the inn at 5 AM Sunday, setting up the TV's again. At 6:45 AM, 45 minutes before we normally open, as many staff as we could fit in front of our laptop lined up behind Jan and me to be interviewed by Marysol via Skype, as the White Gull was announced the winner. After the epidsode was announced, I turned around once again to see the lobby full of guests. They must have seen the Skype interview, because there was a full blown celebration in effect. We opened the doors to the dining room early, to one of the busiest days we've ever had. People came for breakfast from hours away to personally congratulate us, and hundreds more phoned, emailed and posted comments on our Facebook page.
Jan and I wish to thank everyone in Door County and across the country for your votes and support in the Challenge. It has been heart warming to see the excitement the Challenge generated and how it brought so many together to work to put Door County in the national spotlight. The emails, calls and Facebook comments we have received all underscore the incredible appeal of this beautiful peninsula and the bond between those of us who are lucky to live here and those visitors and former residents who will never forget it. We couldn't have done it without all of you, and we know the recognition is not just for the White Gull Inn, but for all of Door County.
Thanks to our Breakfast Chef Julie Zak, who tutored Marysol Castro in the finer points of Stuffed French Toast. Thanks to our managers and all of our staff, whose dedication and hard work, day in and day out, led to the White Gull being nominated in the first place. They all handled the additional workload and media attention from the challenge with their usual grace, good humor and professionalism.
Finally, we are grateful to our guests who took the time to enter the White Gull in the Challenge. We have received many compliments over the years, but yours hold a special place in our hearts.
The Day Good Morning America Called
Tuesday, May 4, 2010 - I was not watching television last Friday when the call came in, but was doing what I frequently am doing in the morning – bussing tables in the White Gull dining room. The front desk told me someone from Good Morning America was on the phone. It was Ameya Pendse, a producer of the morning show, calling to let me know that we were one of four finalists in their Best Breakfast Challenge. He and correspondent Marysol Castro would be at the White Gull on May 4, to learn how to make our Cherry Stuffed French Toast, and shoot footage for Good Morning America. I nearly dropped the phone.
Ameya explained that guests of the White Gull had entered the inn in the challenge, and GMA had selected four finalists from thousands of entries. "You wouldn't believe what nice things your fans are saying about you," he said.
The first person I called was Jan, who was excited as I was. Then the staff, and then, of course, all of our regulars and friends. The excitement built through the next few days, and on Tuesday, when Marysol and Ameya walked into the inn a little before 8 AM, the dining room was packed. We open at 7:30 AM usually, but we opened the doors at 7:15 because the lobby was full, and we were worried that the noise would wake up our inn guests. In retrospect, I doubt if any of them were still sleeping! It was like a big party, very festive.
We ushered Marysol and Ameya into the White Gull kitchen where day chef Julie Zak was waiting to show Castro how the inn's breakfast specialty is made. After mixing the Door County cherries with Wisconsin cream cheese and stuffing the fresh egg bread with it, Julie and Marysol dipped them in batter and spread them on the White Gull griddle. After tasting her work, Marysol seemed pleased. "It's like dessert for breakfast," she said over a plate of the French toast accompanied by the inn's turkey hash. Wielding a camera, Pendse then walked through the dining room capturing White Gull guests at their tables.
Anchor Jeff Alexander and a camerman from ABC Green Bay affiliate WBAY-TV were on hand to cover the coverage. The timing for a surprise visit by television cameras couldnt have been better. We had closed for the month of March for heavy cleaning, painting, recarpeting and a general facelift of all of our buildings. On Tuesday, the sun was shining, the cherry blossoms were peakng and the tulips in front of the inn were in bloom.
The four finalist restaurants will be featured on Good Morning America on May 15. On line voting by viewers will take place that day, with the winner to be announced live on the show the following day.
The White Gull staff, many of whom, like Julie, have worked at the inn since the 1980's, deserve a lot of the credit for the recognition. A restaurant is a thousand little details, day in and day out, year in and year out, and our staff – the cooks, the wait staff and everyone is incredibly dedicated. This is just as much for them as it is for us. They are the best, and we are very proud of them.
We're gearing up for another festive scene on Saturday, May 15. I know it's not typical of the White Gull, but there will be TV's in the lobby, the dining room and the kitchen. Those who are having breakfast or who are working at the inn those mornings should not have to miss the show.
Pictured above: Jan, Ameya, Marysol and me tasting Marysol's White Gull Cherry Stuffed French Toast with turkey hash at the corner round table in the old dining room.
What Else We Do in Winter
December 22, 2009 - Another thing we (the White Gull staff) do in winter is have our Staff Christmas Party! Because we serve breakfast, lunch and dinner and have the inn open nearly every day of the year, it is nearly impossible to get all the staff together without closing the inn, which is exactly what we did today. We held our party right here in the White Gull dining room so we could all enjoy the fruits of our labors (see previous blog entry about decorating the inn for the holidays.) As always, it was great to sit down and eat a wonderful White Gull dinner (prepared by Chef Dean Pahl, Sous Chef Andrew White and Pastry Chef Steve Glabe) with the people we work with every day, get to know their families and be reminded that it is hard to spend so much time with a group of people without becoming very close to them. They are a fantastic crew, who give 100% day in and day out, and who are always there for each other in good times and bad. Jan and I are so proud to be a part of this staff. I wish we could have gotten a photo of all 50 of us who here tonight, but the picture at right (taken at the famous "corner round" table will have to suffice. Pictured, left to right, are staffers Angie Warwick, Annie Almsteadt, Sandra McMullen, Susan Vanderkinter (with spouse Ben), Linda Silvasi-Kelly, and Wiwik Berns (with spouse Chris.)
What Do We Do in Winter
November, 2009 - (This blog entry was originally posted in November, 2007, but it was worth updating. As a tribute to the longevity and dedication of our staff, only two names had changed in the two years.)
Visitors to Door County in summer and fall love to ask those of us who live here how we spend our time in winter. It's a reasonable question, since everyone knows that there are far fewer tourists, the pace of commerce slows and many businesses even close for all or part of the winter. But it is a question that always makes us smile, because our life seems busier than ever, and soon after the last leaf falls, we are kicking it into high gear just to get ready for the "Quiet Season."
In early November, our staff begins decorating for the holidays, a job so daunting that we actually close the restaurant for a day during the second week of November. Some guests (usually men) comment that the decorations seem to be going up earlier and earlier. Actually, this is not the case. It is just that in order to have them all up and functioning by Thanksgiving weekend, we have to start that early.
Jan, assisted by White Gull staffers Connie Pahl, Tammy Krause, Sandra McMullen and Sandy Hand, tackles the lobby and dining rooms, decorating three trees, every window and just about every inch of available space. Meanwhile GM Scott Kositzke and Becky Funk put up the garlands, wreaths and lights on the outside of all White Gull buildings. Andy, with help from kitchen staffer Leonso Gomez, hauls dozens of boxes full of decorations and holiday retail items from a variety of storage areas inconveniently located in various attics and closets around the property.
You would think the kitchen staff could take the day off, but Day Chef Julie Zak heads a staff of 10 to take every piece of equipment apart for a thorough cleaning and maintainance. Just to make things all the more crazy, our Maintainance Guru Russ Smith, and flooring contractors, painters and plumbers are on premise to do repairs that can't be done when we are open.
Head Housekeeper Kathy Buelow and her staff are using the down time to begin a deep cleaning of all the rooms. Just because we're closed, the phone doesn't stop ringing. Good thing front desker Pam Dean and Assistant Innkeeper Patrice Champeau are on hand to answer it and check email for the onslaught of online holiday gift certificate requests. Of course, when the phone isn't ringing, Pam and Patrice are knee deep in decorating along with the rest of the crew.
At the end of the day, a lot gets accomplished, but actually the work continues for several more weeks. Poinsettas for the rooms, Norfolk pines for the dining room tables, decorations for the individual guest rooms and cottages...the list seems endless.
Decorating for the holidays is only a small part of our winter activities, however. The winter concert season begins in November, with a Wednesday night folk concert monthly until April. Chef Dean Pahl plans and prepares a special menu for each concert. On the day of each concert, the PA system is hauled out of storage and erected, the dining rooms are rearranged for the concert, and then later reset for breakfast.
Don't forget about the Progressive Dinner weekends, which begin promptly the weekend after Thanksgiving. Planning and preparations for these weekends actually begin months ahead of time. The Progressive Dinner involves the Whistling Swan and the Thorp House Inns as well as the White Gull, so along with coordinating the events between the three inns, the menu must be planned, wines are tasted and selected, and musicians are hired.
All of the above is interspaced with the usual holiday bookings the White Gull receives in December. Many businesses and organizations plan their special holiday dinners at the inn.
By the time we reach Christmas, one of the two days of the year we are closed (the other is Thanksgiving), we are ready for a breather. After spending this special day with our families, we are back at the inn, preparing for the rush of guests who love to visit Door County between Christmas and New Year's. New Year's Eve, with its special menu and harpist Cheryl Murphy entertaining in the dining room, is always our busiest night of the year.
The day after New Year's Day is usually quiet, but by then we are preparing for our January Progressive Dinner weekends, more concerts, winter remodeling projects...did I mention taking down the holiday decorations?
Somehow in the midst of all this activity, the White Gull staff finds the time to take our annual vacations. Sometimes, if we're lucky, we make a trip to Chicago or some other city, but sometimes we're just too busy. You may have to come up and see us!
From Pancake Rocks to Pancakes at the White Gull
July 31, 2009 - This blog post ends at the White Gull but begins about as far away as you can get and still be on the same planet! Rewind to April of this year, when Jan and I found ourselves on the remote west coast of the South Island of New Zealand. Our daughter, Hannah, was spending a semester of college abroad at the University of Otago in Dunedin, and on her fall break, she was taking us on a tour of the South Island. We found ourselves in one of the most beautiful spots in a spectacular country - the famous "Coast Road" to Punakaiki, ranked by Lonely Planet as "one of the best scenic coastal journeys in the world." Our quest was the Pancake Rocks, where the unusual rock formations jut out to meet the Tasman Sea. We were experiencing the power of the sea as it surged into the sea caves blasting sea spray high out of the blowholes, when a couple passed us, and the woman was wearing a "Madison, Wisconsin" t-shirt.
Not having encountered many Americans in New Zealand, especially in this remote area, we struck up a conversation with these misplaced "Badgers." Turns out, they weren't from Madison at all, but from Christchurch, the South Island's major city on the east coast. But Lance and Ann Perham were well aware of Madison, as he had spent a year studying there many years ago in high school.
Jan and I had a delightful time chatting with Lance and Ann, and as a result, before parting, we all invited each other to visit, exchanging addresses.
Now fast forward to July 30th in the White Gull lobby. I am about to leave for the day, and I notice a couple waiting patiently at the desk. At first I didn't recognize them, but when Lance said, "Andy, we've come to see you," the accent brought it all back.
After meeting us in Punakaiki, the Perhams subsequently decided to visit the States, and when they found themselves in Wisconsin, they decided to drop in to Fish Creek. Of course we had to show them a little of the local color, so off we headed for wine at Mr. Helsinki's in Fish Creek, burgers at the AC Tap and eventually cherry pancakes at the White Gull the next morning. We parted old friends, and the Perhams are now safely back in Christchurch, after visiting more friends in Buffalo, New York City and San Antonio. As the White Gull innkeepers, Jan and I wish to bestow on Ann and Lance (pictured with us at the AC Tap) the award for most miles traveled in 2009 for a White Gull breakfast. And, of course, an invitation to return to Fish Creek any time they can.
You Can Travel Green in Door County
June, 2009 - It is hard not to be aware of the "green" movement if you travel at all or work in the hotel business. In the last few years, adopting more environmentally responsible practices has swept the hotel and travel business just like the internet transformed our industry a few years earlier. And it is about time, since there was a lot of "greening" to be done. After all, restaurants and hotels use a lot of energy and there is a lot of waste generated every day. It didn't take long for just about every hotel to adapt water and energy saving practices and increase recycling.
The White Gull is no exception. In some cases, we were ahead of the curve, having begun our recycling of paper, plastic and metal cans back in the 1980's. We have always bought locally, including the thousands of pounds of locally caught Lake Michigan whitefish and locally grown cherries and apples. But there was more to be done, so over the last several years, we have added phosphorus free cleaning products, compact florescent light bulbs, and biodegradable "to go" containers. Water is now served only upon request in the dining room, and inn guests have the option of using their towels more than one day. This year we have begun composting a large percentage of kitchen waste by sending it home with gardners on the staff. A lot of it is taken by a staffer raising pigs.
It's been a fun and educational process with new ideas coming from staff members, guests, vendors and sometimes state and local agencies. The local media has been a great help, by featuring businesses on the cutting edge and highlighting new practices and products as they have become available. We know we have made progress, but we also know there is a lot more that can and will be accomplished.
Of course, it didn't take long for someone to figure out that letting your customers know you are "green" is good for business. That's great, but how do you know how "green" a business actually is? That is where Travel Green Wisconsin comes in.
Travel Green Wisconsin is a voluntary program that reviews, certifies and recognizes tourism businesses and organizations that have made a commitment to reducing their environmental impact. Specifically, the program encourages participants to evaluate their operations, set goals and take specific actions towards environmental, social, and economic sustainability.
Above all, the Travel Green Wisconsin program is designed to protect the beauty and vitality of Wisconsin's landscape and natural resources. Wisconsin's natural resources, wildlife and cultural diversity are among its most important tourism assets. Efforts to preserve them for future generations serve the best interest of Wisconsin travelers, as well as its tourism industry and the state's overall economy. The program is also designed to educate travelers to Wisconsin about sustainable tourism practices and promote smart business practices.
The White Gull began the Travel Green Certification process about a year ago with a self-assessment. To achieve certification, applicants must earn a minimum of 30 points from a checklist of basic requirements covering a wide range of "green" practices, including: waste reduction, reuse and recycling; energy efficiency, water conservation and wastewater management; air quality; wildlife and landscape; transportation; purchasing; and local community benefits. The Wisconsin Environmental Initiative, an independent third party, then certifies Travel Green Wisconsin applicants.
We knew from the start that we had at least the minimum points for immediate certification, but we decided to use the assessment process to motivate ourselves to do better. By the time we completed our application this spring, and The White Gull Inn became the latest Door County business to become Travel Green Certified (in May), we had earned a total of 75 points.
To learn more about the Travel Green Wisconsin program and to see if your favorite Door County and Wisconsin businesses are participating, you can visit their website.
Bon Appetit Finds What is Special in Wisconsin
May, 2009 - What's to eat in Wisconsin? In a feature entitled "The United Plates of America," Bon Appetit provides a guide to the best things to eat, drink, and buy in all 50 states. Here is what they found in Wisconsin:
"WHAT TO BUY: Black Hills black popcorn from Fireworks Popcorn, 101 W. Grand Ave., Port Washington; 262-268-9007
WHAT TO EAT: Door County fish boil at The White Gull Inn, 4225 Main St., Fish Creek; 888-364-9542
WHAT TO DRINK: Spotted Cow ale from New Glarus Brewing Co. at Der Stiftskeller, University of Wisconsin-Madison, Memorial Union building, 800 Langdon St., Madison; 608-265-3000"
We might add: Spotted Cow is also served at the White Gull Inn. Maybe we should feature the Black Hills popcorn in our afternoon popcorn and cookie treats for inn guests. Then visitors to our fair state can experience everything they need in just one stop!
White Gull Featured in National Geographic Traveler
April, 2009 - National Geographic Traveler Magazine has 129 "Hotels We Love" in North America because of their "location-inspired architecture, ambience, and amenities, eco-stewardship, plus an ethic of giving back to the community." We were delighted to have been included on their list this year. The magazine described the White Gull as an "1896 clapboard inn in bayside village centrally situated on 75-mile-long Door Peninsula. Antiques, prints, and fabrics establish turn-of-century character. Don't miss traditional fish boils, held most summer evenings, with locally caught whitefish cooked Nordic-style over open fire. Artist galleries, lighthouses, winter sleigh rides through local orchard and winery. 13 rooms; from $155." Read about the rest of the featured hotels.
Special Guests Danny and Sissy Friberg
May 5, 2008 - A lot of photos are required to keep a modern website up to date. You may have noticed that the pictures on our home and other pages are continually changing throughout the year. With my trusty digital camera, I have taken quite a few, because after all, I am often here when the moment, the sky, sunlight, the flowers...are just right. But even I find it hard to continually come up with photos that convey the perfect moment at the White Gull, in Fish Creek, or in all of Door County.
That's why I was so delighted and surprised to receive a package last year from long time guests Danny and Sissy Friberg with a CD full of beautiful shots of the inn, Fish Creek, Peninsula Park and all of the Peninsula. Danny, pictured with Sissy here in front of the Eagle Bluff Lighthouse, is a great photographer, and he not only included some of his finest shots, but graciously gave me permission to use them on the website.
But that's not all the Fribergs sent. Danny is also a pretty good writer. The following poem arrived framed with one of Danny's pictures of the inn. The Fribergs celebrated their anniversary here last May, 20 years after they discovered the White Gull on their honeymoon. (The framed picture and poem are in the White Gull library on the third floor.) Congratulations to the Fribergs and thanks for sharing your White Gull and Door County memories.
"The White Gull Inn"
One hundred years and even more
The White Gull Inn upon this shore.
The lamppost there, on the sign outside;
A welcome sight from a distant ride.
With flowers hung that greet the guest;
The staff attends and give their best.
There with elegance from long ago,
Reminds each one of a time we know.
Of childhood and peaceful days,
Friends we had and simple ways.
Jan and Andy with a passion for,
the heritage...and continued lore.
Share their hearts so we may see,
A memory saved for you and me.
In quiet rooms a restful sleep;
As if a secret dream to keep.
A four post bed with steps to climb;
Sweet dreams we share, a peaceful time.
The fireplace with embers glow;
It sooths the eyes, and warms the soul.
Cherry blossoms on papered walls,
With candle scone that light the halls.
A Baby Grand for one to play,
A serenade...with love to say.
I need this time alone with you;
Rekindled hearts there for two.
Like a shoe that's worn so well,
A comfort found I wish to tell.
Twenty years have passed our way;
Seems like only it was yesterday.
A peaceful place upstairs is found;
A library small, where tales abound.
A place to read and settle in;
Reflect on thoughts, and search within.
A Fish Boil fare on weekend nights;
The folks all come to share the sights.
Throughout the year with wood they burn,
And tell the story a tale we learn.
The smell that lingers with memories made;
We watch the sun with amber fade.
And overhead the seagulls fly;
Their darkened form against the sky.
The accordion sound fills the air,
As people wait their meal prepare.
We walk the road that passes by;
So proud to see Old Glory fly.
And to the shore, the Sunset Beach;
We watch the colors, the waters reach.
I wake each morning rested well,
To the sound of birds, their song to tell.
And Coffee Cake, their specialty;
We know each morning, fresh will be.
With helpful kindness from those around,
A friendly smile on each is found.
A meal for two by candlelight;
Heart's embrace a special night.
Captured moments in time and space;
the White Gull Inn, with charm and lace.
The memories made we hold them near;
And share with others the Inn so dear.
The beauty there each time we see;
Within our hearts will forever be.
--Danny Friberg, Memorial Day '07
Fish Creek - No. 1 in the Midwest
June, 2007 - We all would like to think our home town is the best, but when someone else, someone as prestigious as Midwest Living Magazine thinks so, it gets our attention! In the June, 2007, issue of the magazine, the editors have compiled a list of the 100 Best Small-Town Getaways in the Midwest. Number 1 out of the top 100: Ephraim/Fish Creek, WI. "Who needs New England?" writes Midwest. "The Midwest has its own coastal charm around the Great Lakes, and our top towns, located in Door County, are the best examples of it." Accompanying the story is a classic photo of Ephraim, (church steeples, white buildings, harbor and all) taken from Peninsula State Park. (Our accompanying photo is of Fish Creek and its harbor.) Describing the peninsula's "signature" meal, the Door County fish boil, Midwest Living writes, "Fish Creek's White Gull Inn, known for first-class hospitality and one of more than a dozen lodging choices in Fish Creek alone, stages one of the best." Of course there are plenty of great small towns to visit in the Midwest, and 99 others are featured in the article, so if you don't already subscribe to Midwest Living, we recommend you pick up a copy.
Greetings from Fish Creek
Greetings, and welcome to the White Gull blog. We'll use this space to introduce ourselves, the White Gull innkeepers, and to keep you up to date on happenings here at the White Gull and in Door County.
The White Gull Inn has been our pride and joy since we arrived as young and inexperienced innkeepers more than 36 years ago. Our three daughters, Meredith, Emilie and Hannah, have loved growing up in Door County and working their summer school breaks at the inn. We have seen and participated in many changes over the years both at the inn and in Door County. But some things don't change. Door County is still a beautiful and restful spot to visit in all four seasons. And the White Gull Inn, though updated through the years, remains a favorite place to stay and dine for both the visitors and residents of the Door Peninsula. We hope to see you soon on your next visit to the Peninsula.
In the meantime, we hope you enjoy our recently updated website, which, as you can see, gives us the flexibility to keep it (and you) continually updated.
Other improvements are the addition of online reservations and the ability to order gift certificates, White Gull products and other retail items online. This means of course that you don't have to worry about our "regular hours". Make your reservations and order items from our lobby store and gift certificates when it's convenient for you.
Your feedback so far has been positive, but we will never stop trying to improve it, so please let us know where you think it can be improved.
If you have experienced Door County's "Quiet Season" – that time between the fall color and spring blossoms – we hope our new website brings back fond memories. However, whether you are planning a return visit or a first time getaway, you can look forward to hearty White Gull breakfasts, days spent exploring the park trails and back roads of the Peninsula, and cozy, candlelight dinners in our dining room. Evenings are for curling up before the fireplace in your antique-decorated room or suite. Although Door County offers plenty of activities in winter, from concerts and festivals to gallery browsing and shopping, remember that the only crowds you are likely to encounter are the deer.
The White Gull is open every day in winter except Thanksgiving and Christmas Days. Plan a visit now with your whole family or that special someone you need to spend time alone with. Our Winter Midweek Packages, Romance Packages and other specials make a two or three-day getaway very affordable.
Ten years ago we began the Fish Creek Historic Inns Progressive Dinners, as a way to showcase the Christmas decorations of the White Gull and the village's two other historic inns. They have become so popular that three are scheduled next December, and one more in January. Details on them and on our current Winter Folk Concert Series can be found on this website under Packages. Don't forget to regularly visit our website as the winter calendar is continually expanded and updated, and news from the inn is posted on this blog.
As always, our famous White Gull granola, hot fudge and preserves and other items from our gift area can be shipped to you or someone on your gift list, via the White Gull Store on this website or by calling us toll free at 888-364-9542. And don't forget White Gull Gift Certificates, also available on line or by phone.
It is never too early to begin planning your next spring or summer visit to Door County, because now is when we still have the best selection. You can check out our current Bed & (Full) Breakfast rates, as well as those for next summer, along with photos and virtual tours, by clicking on Lodging.
We hope to see you soon.
Andy and Jan Coulson Innkeepers
Milwaukee Journal Sentinel Recognizes White Gull in its Best
January 4, 2007 - Each year the Milwaukee Journal Sentinel asks its regular recipe testers to keep track of their favorite recipes published throughout the year in the newspaper. On New Year's Eve, the paper published its "Best Recipes of 2006", and we are delighted to see that our Cherry Almond Bread Pudding, a creation of White Gull Pastry Chef Steve Glabe, was included. Steve originally provided the recipe for a story the Journal Sentinel ran last summer on Chefs at Play (what Door County chefs like to create using our locally grown Montmorency cherries.) It's great to see Steve receive this recognition, since he's been turning out wonderful desserts for the White Gull since 1981. We hope you enjoy his creation as much as our dining guests.
White Gull Salad on Midwest Living's 20 Best Recipes List
January 1, 2007 - "Combing through more than 2500 recipes was easy; choosing only 20 was the hard part!" according to Midwest Living's Senior Food Editor Diana McMillen, who used readers' responses during the magazine's 20 years of publishing to come up with its 20 Best Recipes of all time. When it was all said and done, there in the February, 2007 issue of Midwest Living is the White Gull's tossed salad. The magazine reprined the recipe, which was originally featured in the December, 2000 issue. Along with mixed salad greens, ingredients include dried cherries, toasted pecan halves, shaved Parmesan cheese and balsamic vinaigrette dressing. Nineteen other mouthwatering recipes from around the Midwest are also featured, including Tagliatelle pasta (from Zona Spray's cooking school in Hudson, Ohio) which is pictured with the White Gull salad on page 58. Still featured on our lunch and dinner menus, the White Gull tossed salad continues to be one of our most popular menu items.